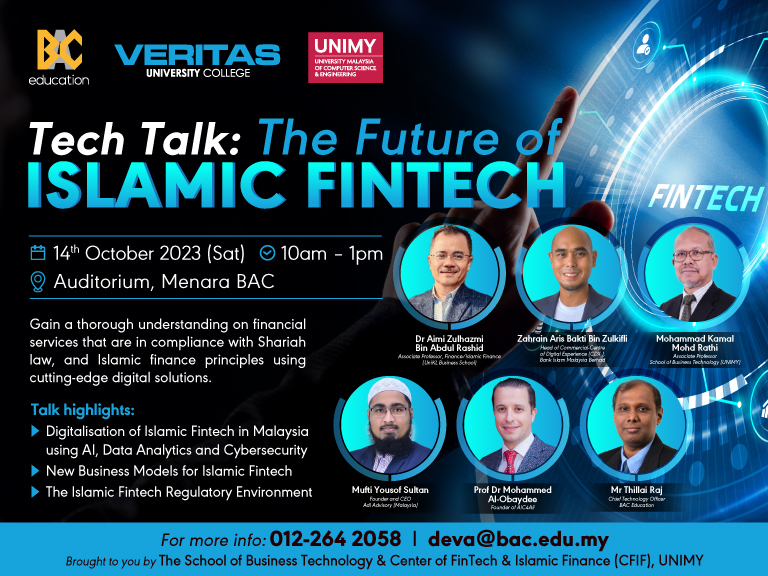 Tech Talk: The Future of Islamic Fintech!
Want to know more about the principles and concepts that guide the integration of technology in Islamic finance today?
Join our FREE session - Tech Talk: The Future of Islamic Fintech!
🗓 Sat, 14th Oct 2023
🕙 10am-1pm
📍 Auditorium @ Menara BAC, PJ
Join experts as they engage in a thought-provoking discussion on the future of Islamic fintech.
➡ Explore the potential of innovative technologies and their impact on Islamic finance
➡ Learn how cutting-edge technologies may affect the expansion and advancement of Islamic banking
➡ Gain insights into how Islamic fintech can revolutionise traditional banking practices and promote financial inclusion
DON'T MISS this opportunity to be part of an enlightening conversation that will shape the future of Islamic finance and its intersection with technology.
Register now at https://www.bac.edu.my/islamic-fintech/
For more info, email deva@bac.edu.my or call 012-264 2058.
Date

14 Oct, 2023

Time

10:00am - 1:00pm

Location & Organizer

Auditorium @ Menara BAC, PJ by UNIMY

More Info
Join Here